Blocked drains can ripple effect and debilitate your entire household and plumbing system. The harmful effects can range from a health hazard to an unpleasant smell with the rise of moulds and pests. Blocked drains Sydney can also cause structural damage to your house, contaminated water and leakages.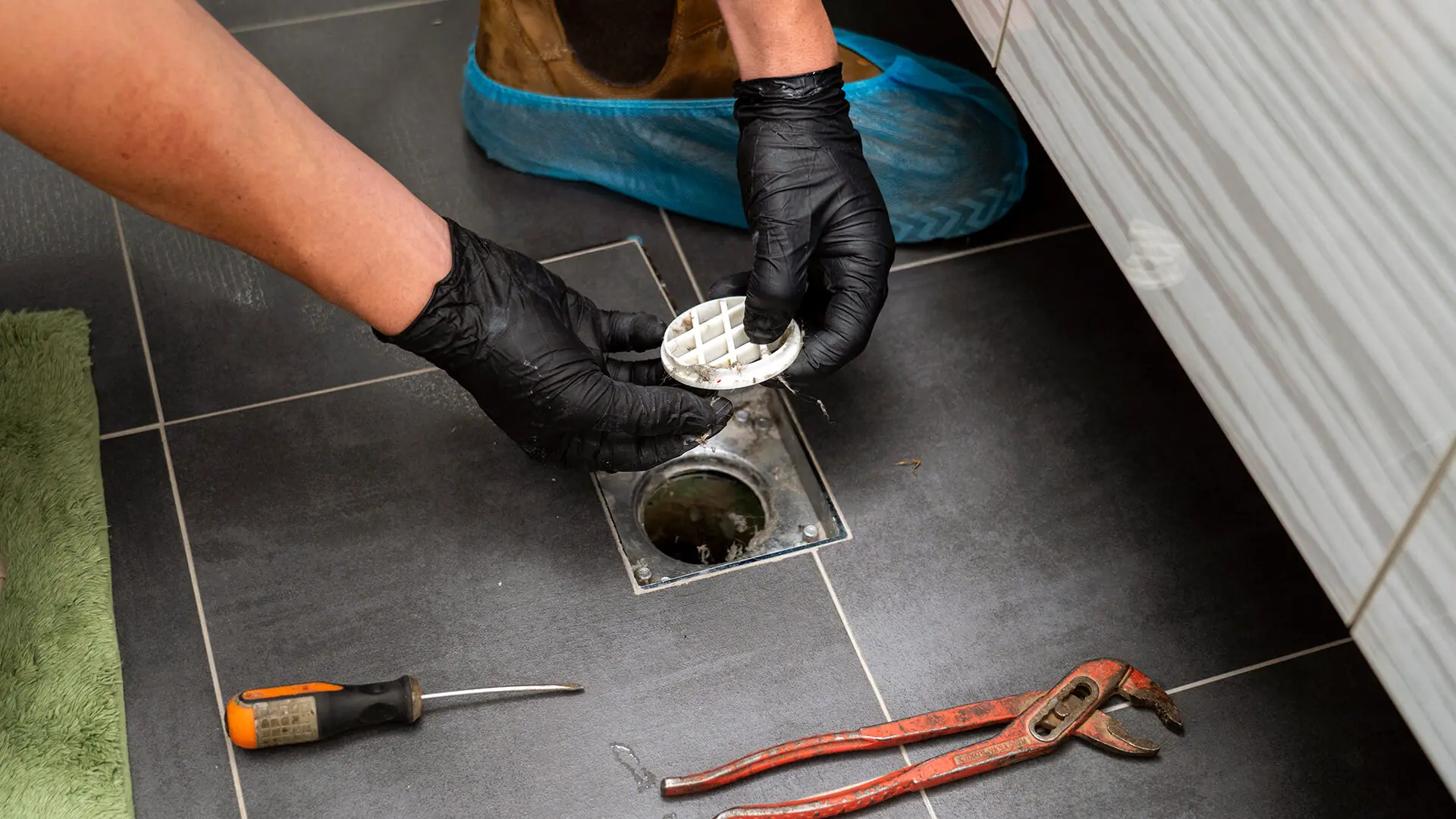 So don't leave your blocked drains in Sydney unattended. Give the professionals a call at Fixed Today.
Signs Of A Blocked Drain
Most clogged drains do not happen overnight; one of the plumbing emergencies households encounter. A clogged sewer drain, blocked stormwater drain, a slow-draining toilet (clogged toilets), Sydney blocked sinks, overflowing drains or clogged shower drain are most likely a blockage in your plumbing system.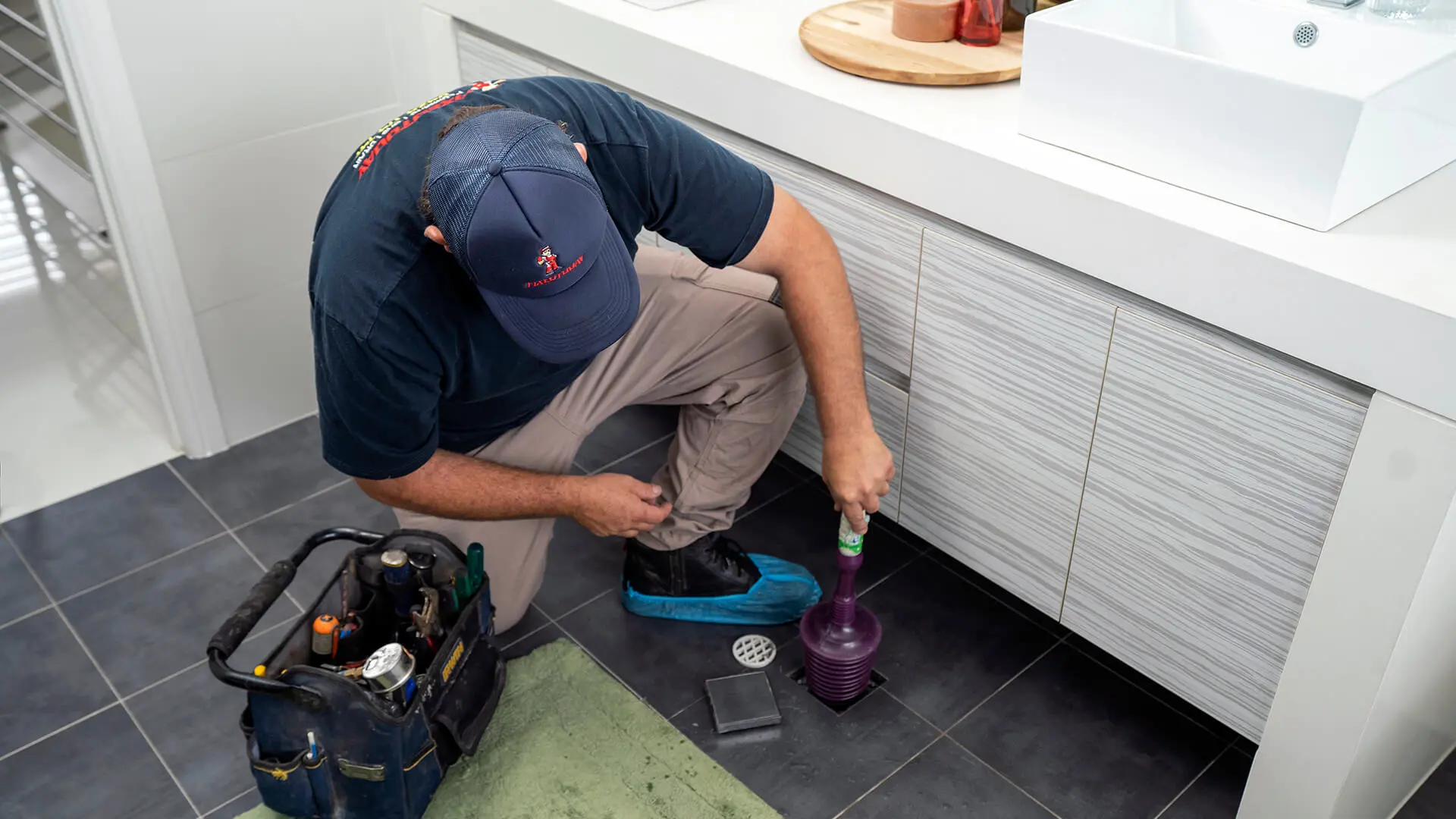 It is best to contact specialists for blocked drains in Sydney at Fixed Today to rectify your drain blockage problem affordably and efficiently. Although DIY methods for clearing clogged drains may seem easy, it is essential to identify the root of the cause of your blocked drain; otherwise, the problem can worsen.
Look out for these indicators of blocked drains in Sydney to prevent a plumbing emergency or further damage to your property:
Water Pooling In The Yard
The water cannot move through the usual channels so it will escape through any free space. This can often be from drain blockages, particularly in your sewer lines. You'll need to seek professional help immediately for a blocked drain clearing process when you notice puddles of water in your front yard. This can be waste from sewer pipes which can be potentially hazardous.
The Strong Smell Coming From The Kitchen Sink
Drain blockages can emit a foul smell from your sink. There could be food items rotting and trapped in the pipeline.
Toilet Slow To Flush And Backing Up Into The Bowl
Another tell-tale sign of drain blockages can come from your toilet. Blocked toilets indicate drain blockages. You may need blocked drain repairs when your toilet can't flush, and water backs up into the bowl. Your toilet system is built only to handle appropriate amounts of toilet paper that can break down in minutes. Anything else will not travel and break down enough to move to the sewer line and cause a plumbing problem like a blocked toilet or sewer blockage. If there's slow drainage or the water is not flushing thoroughly, the system has a blockage like your sewer pipe.
Gurgling Noise Coming From Your Drains
An indicator of Sydney blocked drain is the gurgling noise from materials like grease, oil, soap, and food in the pipeline, causing air to become trapped.
Causes Why You've Got Blocked Drains
Sydney blocked drain can occur for several reasons and often be hard to detect. It's always recommended to seek professional help and let your blocked drain plumber do the job for you. Here's a rundown of the common reasons why you're experiencing blocked drains Sydney:
1. The Build-Up Of Grease And Other Materials
The food you wash down your sink can get lodged anywhere in the drain pipes, causing Sydney blocked drain pipes. Pouring greasy or thick products can also cause a build-up, becoming a barrier and preventing the water from flowing smoothly.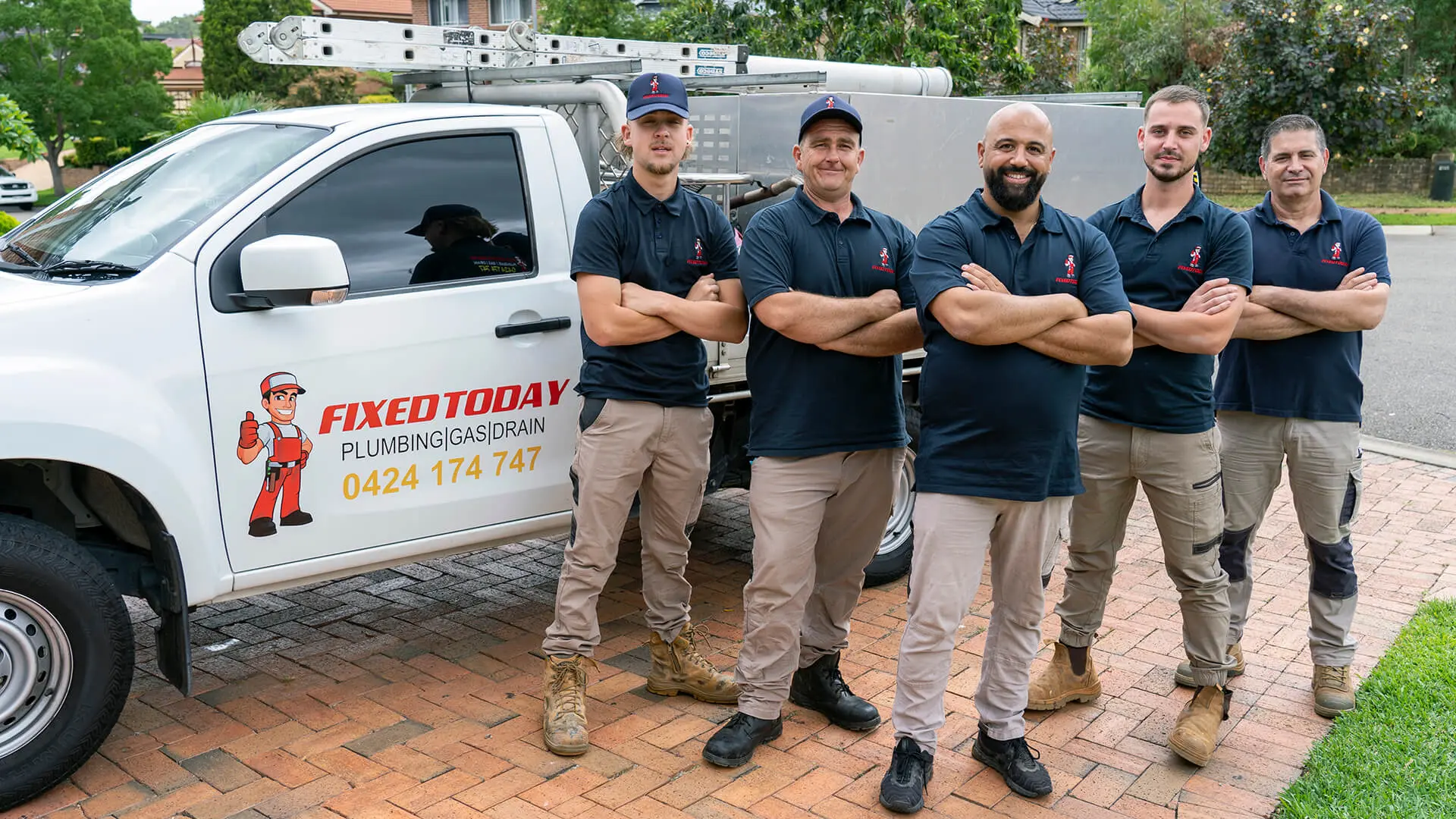 2. Shower And Bathroom Blockages
Bathroom blockages may be a mass of stubborn goo clogging up your drains. The blocked drains can result from human hair, pet hair, natural oils, soap and other product residues.
3. Improper Disposal And Small Objects
Your drainage is built only to withstand certain liquids like urine and human waste. Any other material can cause blocked drains, disrupting and interfering with your water flow.
You can accidentally flush everyday items down the toilet. Rings, jewellery and even toothbrushes are typical culprits. Improper disposal of personal hygiene products can also affect drainage. Think about your dental floss, baby wipes, toilet wipes, diapers, tampons, tissues and cotton balls. Dispose of them properly.
4. Tree Roots
Underground pipes are full of moisture and are the perfect environment for tree roots to grow. Even the smallest cracks in your pipeline are enough for roots to attach and overgrow. The tree trying to break through will cause pressure, destroying your pipelines. This will eventually cause leakage and blocked drains.
5. Faulty Plumbing
Blocked drains could also be the result of faulty plumbing. While installing plumbing fixtures, mistakes can happen. At times, the pipes collapse, or cracks appear, which cause damage to your property. So, if you've got blocked drains, even if they're newly installed, it might be a case of improper plumbing.
Whether it's the kitchen or bathroom drain, it is essential to determine its cause. Hence, blocked drains aren't something that you must ignore. When you notice the tell-tale signs of a blocked drain, it's time to contact your blocked drain plumbing agency.
Equipment To Clear Blocked Drains
Fixed Today's Sydney blocked drains specialists will identify the source and suggest the best steps forward. The goal is to rectify your blocked drains as soon as possible.
Fixed Today's team of top professional blocked drains plumbers in Sydney use the most high-tech tools to locate your blocked drains.
Our reliable blocked drains plumber can unblock your drain with our experience and qualifications in no time. Our licensed blocked drains plumbers are skilled in clearing blocked drain pipes and operating with the following tools and equipment:
Jet Blaster and jetting equipment
CCTV Drain Camera Inspection
Pipe locating equipment
Root treatment
Electric Eel
What We Do About Blocked Drains
Below is our step-by-step guide on handling blocked drains and dealing with obstructions of any size and severity.
Step 1
Our blocked drain plumbers conduct a thorough initial assessment and testing to determine the source of your blocked drains correctly.
All the surrounding areas, particularly your sewer pipe, are inspected to prevent a misdiagnosis. The best action plan can be implemented, whether enough to use a plunge on your sluggish toilet, a high-pressure jet blaster on your blocked drains and tree roots invasion, or sewer cleaning.
Step 2
We use a high-pressure jet blaster for major blocked drains to remove obstruction, such as tree roots, grease, and dirt.
Jet blasting is the most efficient method for unblocking drains and any significant obstruction. A jet blaster is best for clearing stormwater drains and blocked sewer drains. In most cases, for a clogged toilet, our blocked drain plumber only needs a plunger to loosen any stuck material.
Step 3
After the obstruction is cleared from your Sydney blocked drains, we use our CCTV drain camera through the piping to accurately report the pipework's condition.
From here, our Sydney blocked drain specialists make further assessments. Our CCTV drain camera will identify your damaged drain pipes. You'll have the assurance that our CCTV drain camera inspection can capture even the undetected leaks.
Step 4
We may recommend pipe relining for damage caused by blocked drains in Sydney. Pipe relining is a no-dig pipe repair.
Your damaged pipework is repaired without extensive excavation. The inside of your faulty drain pipe is inserted with a durable resin. The resin coats the inside of the pipe, leaving a smooth finish. This is done through a pinhole opening.
Pipe Relining is excellent. The costs of pipe relining services are only a fraction of a regular extensive excavation. It can be completed in half the time, with no messy landscaping needed afterwards to get your property back to its original state.
There are plenty of DIY methods for solving blocked drains in Sydney, and some are more effective than others. But if you've retrieved the balls of hair or even got out the trusty plunger and still have your stubborn Sydney blocked drains, or you want to be sure your blocked drains won't reappear, it's time to call in professional Sydney blocked drains plumbers.
With over a decade of experience in blocked drain repair, Fixed Today's professional blocked drains plumbers have the knowledge and skills to unblock drains.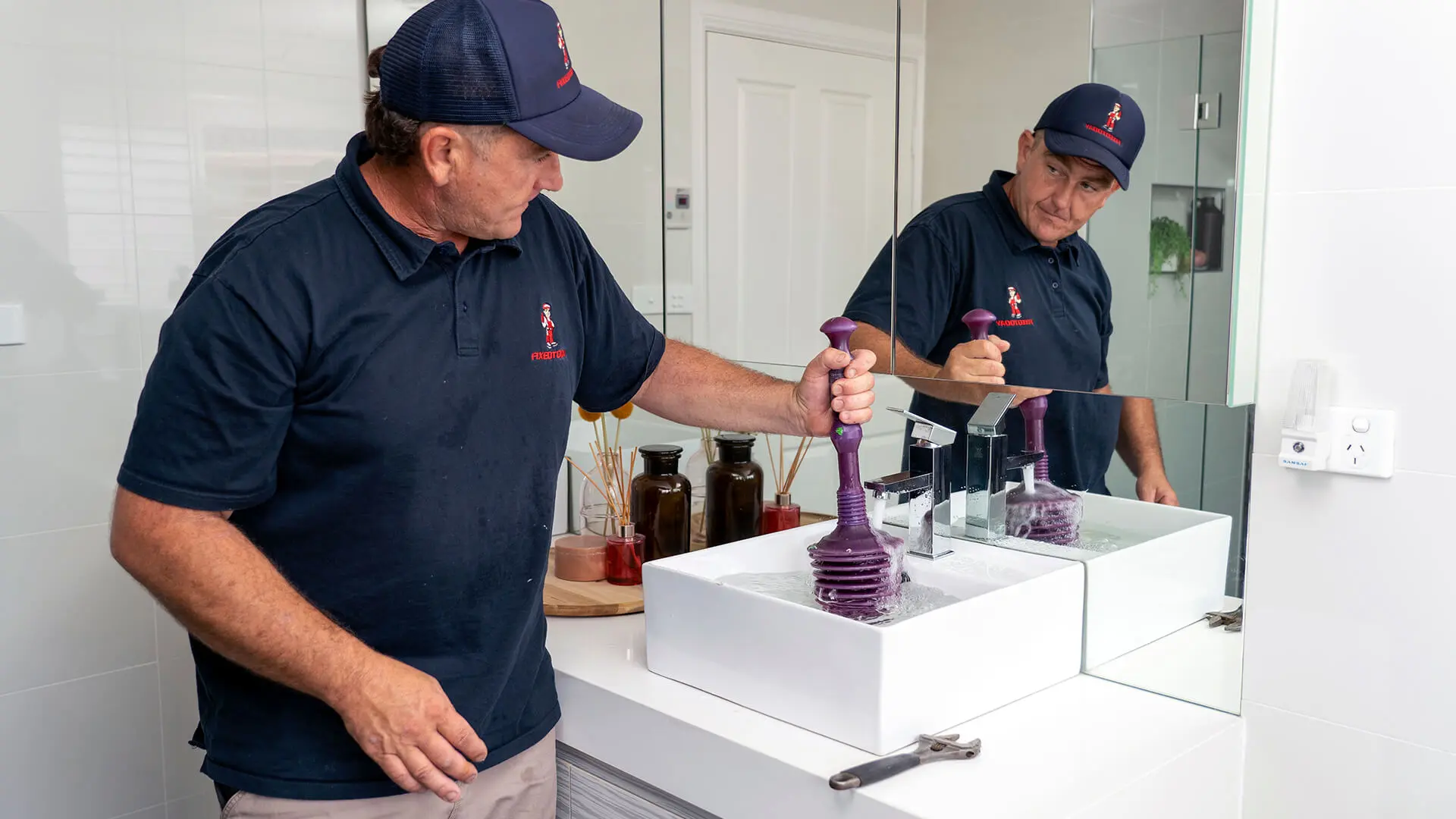 We are a specialist blocked drain plumber in Sydney, servicing residential and commercial properties throughout Sydney.
Our trusted drains plumber offers honest, upfront solutions for clearing blocked sewer lines, complex blocked drain jobs, drain cleaning in Sydney and other plumbing problems with fixed pricing. There are no shortcuts with us and no 'band-aid fixes.
Suppose you believe you are experiencing a plumbing emergency in Sydney, like blocked drains. In that case, you can also contact our fast response team, and we are available 24/7 in many areas across Sydney.
With a 5-star rating on Google, our customer service representatives are on standby for your call. Contact our team for all your plumbing solutions, from your clogged drain pipe to a blocked sewer drain and other blocked drains in Sydney.