Fixed Today Plumbing, with its team of expert plumbers in East Hills and over a decade of experience, is dedicated to providing quality workmanship you can rely on for all your plumbing issues.
With our East Hills plumbing team boasting second-to-none industry knowledge, you can trust us to provide a reliable plumbing service. From the first call through to job completion, our skilled and qualified team will be there to assist you.
As a small, family-run enterprise, Fixed Today Plumbing provides affordable plumbing services, taking the extra time to thoroughly resolve your plumbing concerns, ensuring optimal outcomes. Our commitment to consistently exceeding expectations and addressing all your possible plumbing concerns has led to a growing base of satisfied customers.
Fixed Today provides high-quality plumbing services to residents. Our East Hills emergency plumber can be at your doorstep quickly and handle all your plumbing problems 24 hours a day, seven days a week.
Fixed Today Plumbing provides quality plumbing services across South Western Sydney and surrounding suburbs, including Ingleburn, Carramar, Leumeah, and Cabramatta.
Our plumbing work is widely known, such as hot water servicing in Georges Hall, general plumbing in Ruse, a licensed gas fitter in Revesby, an emergency plumber in Lansvale, or a local blocked drains plumber in Chullora; our technicians know what it takes to have you back up and run as soon as possible.
Fixed Today Plumbing, given its reputation for dealing with both residential and commercial clients, remains a trusted choice in East Hills for both general and emergency plumbing services.
Leaking Tap
Often, you may try to repair a leaking tap. Utilising your creativity, you can do quick fixes like rerouting water into a bucket or using a sealant or household items such as putty or chewing gum.
But think again. These are only temporary fixes. A leaking tap may only be a facade. Behind the façade of a leaking tap, there might be a damaged pipe or even gas leaks lurking. So, don't ignore the consistent sound of water dripping.
A leak left undone and a damaged pipe gone undetected can turn for the worse. It's a waste of water and can increase your water bill.
Call a professional plumber to conduct leak detection and undertake leaking tap repairs. It may be a minor leak or a sign of a worse scenario, like a damaged pipe.
Plumbing Crisis
A plumbing crisis can catch you off-guard, but the impact can be lessened if early warning signs aren't dismissed as trivial (like that leaking tap you tried to fix with chewing gum). Our plumber in East Hills can perform preventive maintenance periodically to avoid emergency plumbing.
But when they strike, emergencies are best managed with experience and expertise.
Here at Fixed Today, our dedicated emergency plumber in East Hills is available 24 hours, seven days a week, to manage your emergency.
Our certified plumbers in East Hills are recognised for their wealth of experience and expertise.
Call our emergency plumbing services for any urgent plumbing job in East Hills. Our plumbing team can be dispatched immediately with our professional East Hills plumbers at your door in no time.
Blocked And Leaking Toilet
A running toilet is among the messiest plumbing issues homeowners have to deal with, along with a clog in the pipeline, water slow to flush, and even a cracked bowl.
If you don't want to get your hands dirty (or even if you do, you may not know how to clear blocked toilets), Fixed Today can perform all your toilet repairs and toilet suite installations in East Hills. Our plumber in East Hills can also help you remove and install your entire bathroom plumbing facilities.
Please contact our plumbers in East Hills to learn more about our toilet repairs and other plumbing services.
Blocked Drains
A kitchen sink can get clogged by a build-up of grease and food. You'll know this when it's emitting a strange smell or isn't draining quickly enough.
The same goes for a bathroom sink. Soap and hair can accumulate in the pipes and interfere with the water flow.
Sometimes, issues may arise from even the most unexpected scenarios, such as a tree's roots pushing through the pipes and blocking the lines - it's just another case for calling in expert plumbers.
Tackling blockages on your own can often lead to unnecessary hassle and recurring problems within your plumbing system. DIY solutions might provide temporary relief, but could also leave you frustrated and exhausted.
Whether it's a drain blockage in East Hills or kitchen and bathroom renovations, call our expert professional plumber in East Hills. Our friendly team is fully equipped and quick at resolving issues.
Hot Water Systems
Our days of relying on geysers for warm water is long gone. Installing hot water heaters is made easy with our hot water services, and we offer options like electric, natural gas or solar.
Our plumber in East Hills can help you find a brand-new hot water system and install your hot water heater on the same day in East Hills. Please contact our team if your hot water system needs repairs, replacement and installation.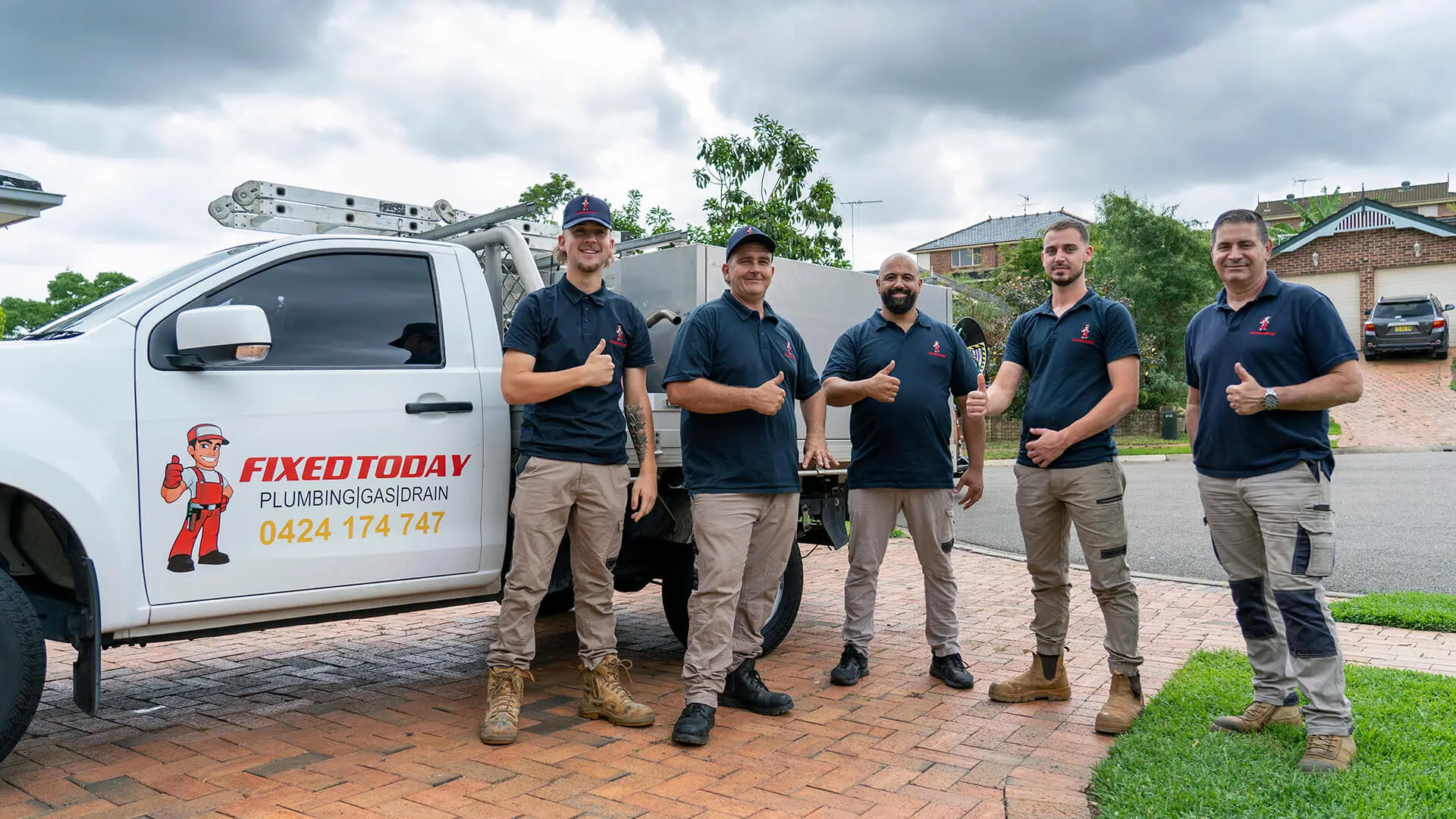 Overflowing Sewer And Stormwater Drain
Our plumber in East Hills uses the latest technology when solving an overflowing sewer and stormwater drain. Our plumbers in East Hills utilise our high-pressure jet blasters to remove any obstruction effectively. And our plumber East Hills inspects the line further to determine if there are cracks, using CCTV cameras. We're available 24 hours, seven days a week for your blocked sewer.
Burst Pipe Repairs
What do you do when you're awakened in the middle of the night with a big pop and your pipe has burst?
A burst pipe is an emergency plumbing situation.
A pipe can fail if not installed correctly. And pipes burst due to high water pressure, blocked pipes, corrosion, tree root intrusion, moving soil and freezing pipes during winter.
You can trust our experts to assist you with emergency burst pipes in East Hills, as our local plumbers understand how pipes work and how to repair and install them effectively. Our plumbers in East Hills also offer pipe relining as a cost-effective, less intrusive option for pipe repair. For plumbing emergencies and plumbing fixtures, trust only an experienced plumber.
Gas Plumbing
The mismanagement of gas appliances or their incorrect installation can lead to severe hazards. Such instances include lethal carbon monoxide poisoning and dangerous fires or explosions.
So, relying on certified gas fitters to perform gas installation, leak, and fitting works only makes sense.
Fixed Today is a team of licensed gas fitters. Our East Hills plumber is qualified to carry out gas plumbing, a dangerous plumbing concern. Our East Hills plumber safely disconnects and installs your appliance, investigates a suspected gas leak and works with gas fittings.
Pipe Relining
You can fix blocked drainage or damaged pipes with only a pinhole opening at a reasonable price, so you don't even have to spend much on excavation and landscaping afterwards.
Fixed Today offers a "No-Dig Repair" or our pipe relining solutions with less intrusive methods and at a fraction of the standard pipe relining cost. Fixed Today offers a "No-Dig Repair" or our pipe relining solutions.
This "trenchless pipe repair" is the most high-tech solution to your plumbing problems. We can finish the plumbing job half the time, and the costs are lower. For quality plumbing and emergency service, request a call now.
Roof And Gutter Installations
Thank heavens for a solid roof above your head.
Isn't this your silent prayer when it's a war between lightning, thunder, and torrential rain?
But your roofing and guttering system can fail because of poor installation, rust, debris blocking the channels or natural wear and tear.
That's why our plumber East Hills offers gutter clearing and installations.
Do not hesitate to contact our East Hills plumbing services for your installations and emergencies. With our fixed price jobs, rest assured that there will be no hidden costs involved in our services. Our 24/7 customer service representatives are standing by to offer reliable service anytime in East Hills.