It'll be challenging to endure the colder season without hot water systems to provide you with warm water. Lucky for us, our team at Fixed Today offers Sydney hot water system repairs and hot water tanks installations, one of the in-demand plumbing services we provide. We can install your new hot water system with our same-day service. Aside from our installation service, we can also perform hot water repair, and our team can work with you to select the best hot water heater for your property and budget.
The size of your family and hot water usage will determine which hot water system or hot water heater tank will be most suitable for you. Also, there's much to consider when buying a heat pump hot water system or hot water heater system, including your water heater tank or hot water tank energy efficiency.
Our experts can also perform hot water heater repairs on your leaky hot water tank and heat pumps and perform routine hot water maintenance checks. If your current heat pump hot water system is leaking, there is low hot water pressure or very little hot water supply, it might be time to give us a call today for the best hot water repairs that Sydney has to offer!
Types Of Hot Water Heaters
If you're in the market for a new water heater or hot water storage, you may not exactly know what you're looking for. You can choose from several hot water systems, depending on the energy source you wish to use. Each has its own set of benefits and varies in cost:
Solar Hot Water Systems
Solar hot water systems are run through solar, using solar panels and generally do not cost a lot to run once installed. They are also the most environmentally friendly option. Also, government rebates apply if you install a solar-powered hot water heater or upgrade to a heat pump system.
Electric Hot Water Heaters
Electric hot water systems run off electricity and can be easily installed. You can also get this heat pump system as a continuous flow, meaning you will not have to wait for the hot water tank to heat up. Electric hot water heaters are the best choice in most residential and commercial areas.
Natural Gas Water Systems
Gas hot water systems use gas to heat your water. A gas hot water heater is reasonably cheap to run and install. Good-quality gas water heaters are the next best option, and a gas water heater may be the best option for larger households.
Hot Water System Installation, Repair, and Replacement
Your hot water system can either be an electric, solar or gas hot water system. Choosing one will depend on your needs and lifestyle. Factors affecting your choice include water heating, cost, personal needs, and going greener. There are pros and cons whether you go gas, electric or solar.
For instance, a gas hot water system may be less expensive regarding running costs. But it can be more expensive when installing it than an electric hot water system. A solar hot water system may cost more during installation, but households will save more money in the long run than gas and electricity. Plus, it's more environmentally friendly.
At Fixed Today, our hot water specialist is the specialised team to do fast and reliable service on your hot water system repairs and hot water system installation. We've worked with well-known energy efficient brands like Dux gas hot water heater, Rheem hot water system, Rinnai electric hot water systems, and more brands names like Thermann, Vulcan, and Aquamax, making it easy for us to work on hot water system replacement, installation, or hot water repairs. So we know what's best for your needs and fits your hot water heater repairs and installation requirements.
Signs Your Hot Water Unit Needs Servicing Or Replacing
Here are a few other noticeable signs you need to call your expert hot water system plumber:
Leaks In The Tank
If the leak comes from your hot water taps or the bottom of the hot water tank, this is generally from years of sediment build-up and rust. Another cause could be incorrect initial installation or old age. If the problem is at the top, it could be a loose valve or pipe fitting.
Noisy Tank
A sediment build-up is also the most common cause of a noisy tank. Naturally, water has mineral deposits that will settle at the bottom of your hot water heater. The sediment pieces end up swirling around the inside, hitting the cylinder.
The Temperature Has Changed To Cold
This could be dependent on what energy source you are running off. If you have gas or your pilot light has turned off, there could be no gas supply. The thermostat could be busted for electrical tanks, or the heating element could be faulty.
Hot Water Running Out Regularly
The size of your container may need to be bigger to handle your usage. Your boiler couldn't provide sufficient heating if you have an instantaneous system and a large household. Talk to us about an instant hot water system today!
Large water bills
Your bill may be skyrocketing if a leak is somewhere in the unit. It would help if you got a professional plumber to look at your hot water unit immediately to prevent future bills.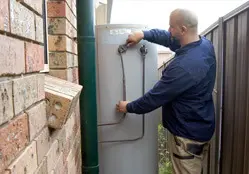 A functional hot water system can make washing, cooking, and cleaning easier. Hot showers are better than bathing in ice-cold water in winter. Even cleaning pots and utensils with warm water can make your load lighter.
So you must fix a broken hot water system. The sooner it gets back in its good running condition, the better.
It takes a professional with particular skills to work on it. And here at Fixed Today, we're proud of our talented plumbers, who offer the best service.
With over ten years of serving Sydney, we can't wait to serve you, too.
Emergency Hot Water Service
You've got a problem if there are leaks in your tank and you can hear a noise. And if there's low pressure to no warm water, that spells you've got an emergency plumbing need.
You must also observe if the temperature has changed to cold and hot water runs out regularly. You may need to replace your tempering valve.
Fixed Today is on call 24/7 for any plumbing emergencies. We're licenced gas fitters. Whether it's early in the morning or late at night, you can rely on us to be at your doorstep sooner rather than later.
Our vehicles are fully stocked and ready for emergency hot water repairs and replacements.
Never feel helpless again if an emergency strikes. We're only a click away. Contact us now; our customer service representatives are on standby for prompt service with all your needs.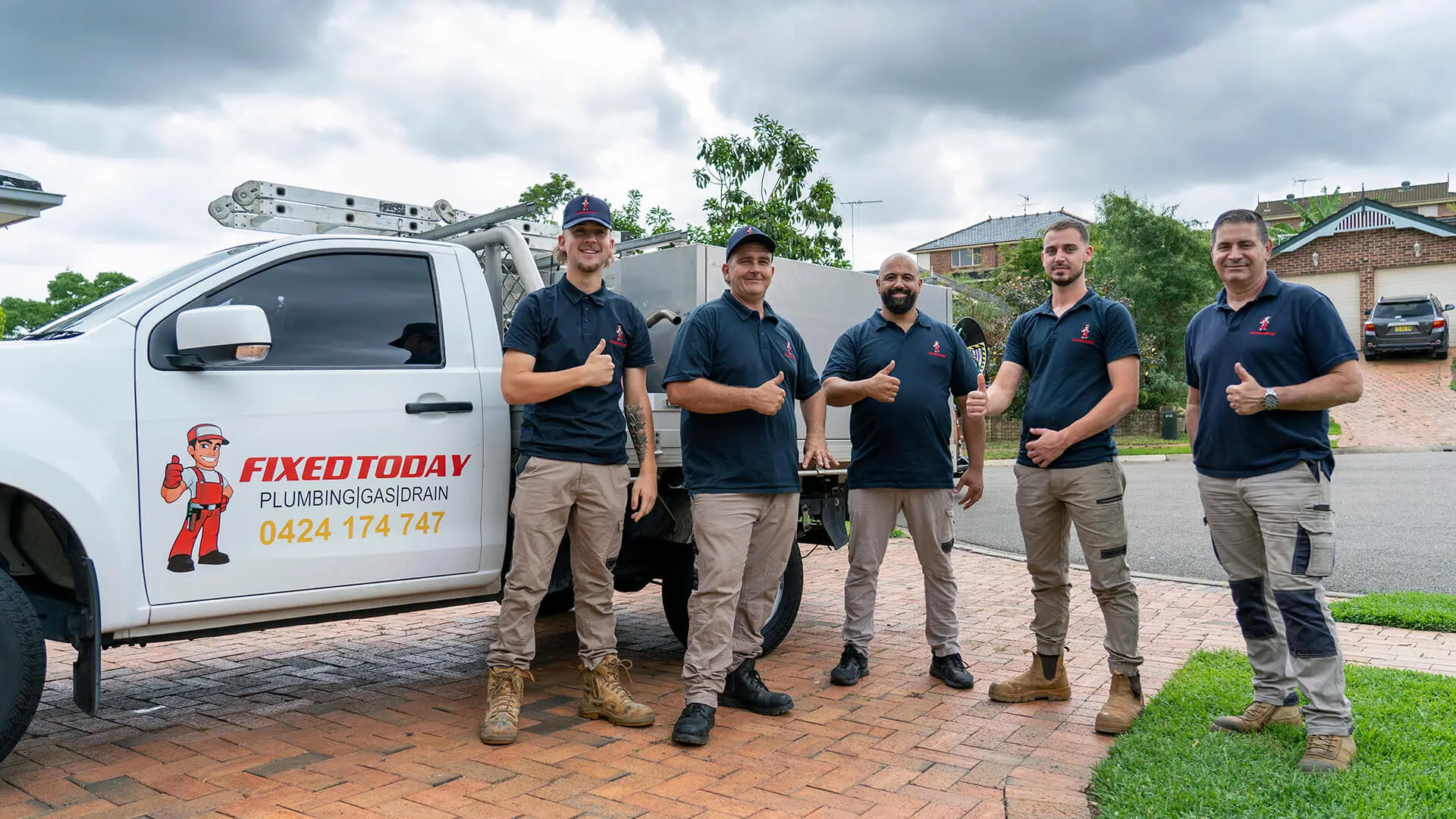 Upfront and Competitive Pricing and Solutions
Transparency is one of the qualities our customers love about us. We offer a very competitive price and solutions upfront. No hidden costs, no deception. There's no guesswork with us and no quick fixes.
Our transparency lets you make the best and most informed decision for your home and your extensive hot water plumbing needs. We can also recommend the best hot water system so you may be eligible for government rebates. We only offer honest solutions that can last for the long term.
We only have your best interest in mind from our initial assessment old tank to installing your new tank and after-sales professional service.
Every job is manageable for us, from leaks to bursting units. We're trained to deal with all plumbing works according to Australian standards.
For hot water system installation and hot water system replacement, we promise that all our skilled technicians are:
On-time
Fully qualified
Extremely professional
Respectful
Highly-trained
With vehicles fully stocked with the best tools and equipment
We guarantee customer satisfaction
So, don't hesitate to contact us today for same-day service on your Sydney hot water system repairs. Have your hot water system replaced and hot water installed. Request a free quote on our great service. We only provide quality service on Sydney hot water systems and can help you choose the best hot water system for your home in Sydney!
We also provide other highly recommended plumbing services, including fixing blocked drains and broken pipes, installing and repairing plumbing fixtures, pipe relining, and so much more. Request a free quote from our great team or book online.