Your plumbing system at home is like a car. It needs preventive maintenance services periodically to keep it in good running condition. Drains are clear from obstruction. Pipes have open-flowing water. Heating is available. And even the small fixtures from previous months or years are fine.
Aside from general plumbing services, general plumbing maintenance, fittings and appliances upgrades, and water meter and plumbing installations, a skilled plumber can work through various plumbing services from low water pressure, blocked drains to hot water systems to gas plumbing to leaking taps and provide emergency plumbing services like clearing a blocked drain and fixing burst pipes.
Fixed Today, Sydney's top plumbing team for residences and businesses, offer general plumbing Sydney services to keep your plumbing issues away and minimise plumbing problems.
Our highly trained and skilled technicians in the plumbing industry provide for all our clients' general plumbing needs and regular inspections. Our experienced plumbers ensure that your plumbing system works seamlessly to bring fresh water from the main water supply. And take the wastewater away to the sewage plant without a hitch.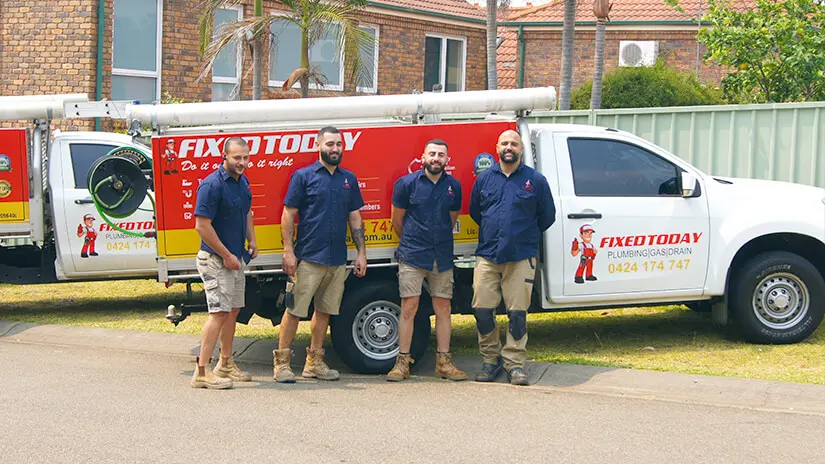 Aside from general plumbing services, we also offer the following:
Blocked Drains
Drains come in different sizes, installed in significant rooms of your house. They serve the same essential purpose: to carry used water to the sewage system.
But there can be unavoidable circumstances that cause a blocked drain. It can be a build-up of hair, soap, grease and other materials in your pipework. It can also be a tree's root trying to penetrate your pipe. Or it can be the improper disposal of waste.
Our licensed plumbers offer the plumbing service of unblocking your drain in no time with the following tools and equipment:
Jet blaster and jetting equipment
CCTV Camera
Pipe locating equipment
root treatment
Electric eel
Hot Water Systems
An effective hot water system can help you easily carry out daily tasks such as washing, cleaning and cooking.
But if it's failing you because of leaks, rusty tank or poor installation from the beginning, our professional plumber can make the necessary hot water systems repairs.
Our Sydney plumbers have worked with all top-notch brands and models of heating systems, such as Rheem, Dux and Rinnai, to name a few. So we can make suitable water heater recommendations that will fit your budget and lifestyle without sacrificing the quality.
Allow our experts to find the best system for you. Be it gas, electric or solar. Our Sydney plumbers can install your hot water units on the spot as part of our plumbing service. Our licenced plumber provides emergency services for burst hot water systems.
Gas Plumbing
If you have gas as an energy source in your home and business, you need a highly trained professional to conduct repairs and connections.
Our professional plumbers are certified gas fitters who work according to Australian standards. Gas fitting is installing gas, gas leak repairs and detection services by a licensed plumber with current permits.
Gas leaks and appliance disconnections, and installations are our specialities and are included in our emergency plumbing services package.
Pipe Repairs and Replacements
Your pipeline is a complicated but significant part of your house. These pipelines are necessary for water to travel efficiently throughout your property. Damaged pipes are the biggest cause of a plumbing issue.
Some indicators of a leaking pipe are:
warped and stained walls
water pooling around your property
discoloured or bad-smelling water
mould growing on surfaces
consistently dripping taps
Our plumbing services include pipe repairs and replacements of plumbing fixtures. Our good local plumber also offers leak detection services to allow us to locate a plumbing problem like a fault in your channels and water leaks, even undetected leakages, to prevent your water bill from skyrocketing. Our reliable Sydney plumber also has our pipe relining technology. Our pipe relining solutions or "trenchless pipe repairs" can fix blocked drains or damaged pipes.
General Maintenance and Upgrades of Appliances and Fittings
We are your best team if you need help finding the right fixtures and appliances. We can keep your home running again as we provide high-quality services.
We can search for suitable taps, shower heads, toilets, vanity sets, ovens, and cooktops. And we'll consider whether it fits your lifestyle, budget and requirements.
Check out the full catalogue of services we offer.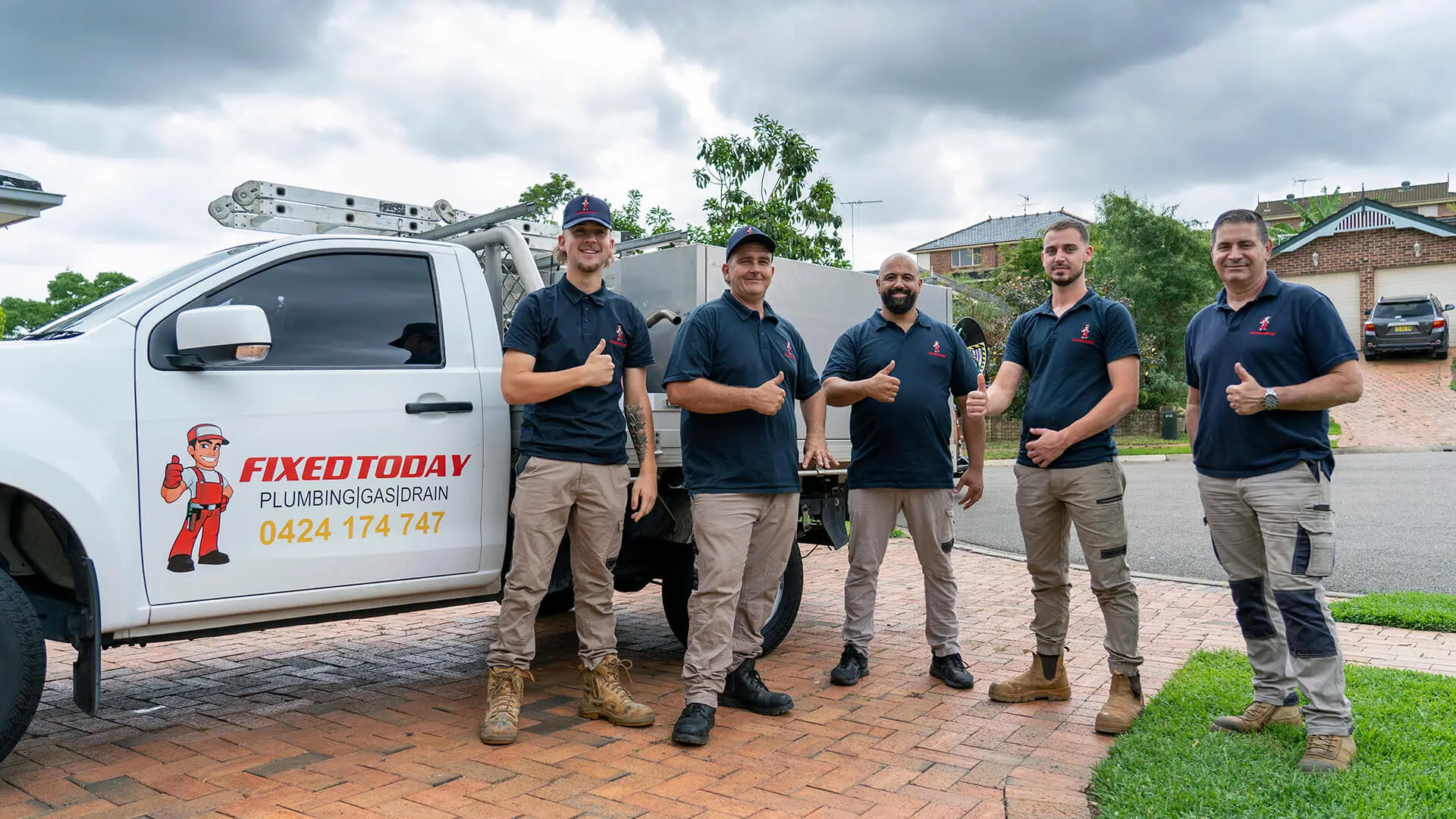 Our general plumbing services can guarantee the following:
On-time appointments
With our prompt service, we will contact you when we are on the way, and if we're running a little behind, we will give you enough notice. We have flexible appointment times to cater to your busy schedule.
Certified and Courteous Professionals
We continue our training and constantly update our skills to top our trade. Our team is fully qualified and licensed to perform plumbing, gas and drainage works.
We respect your property and environment and never leave it in a mess. We clean up and ensure everything is in its proper place. We go above and beyond and understand that the little touches, like cleaning up after ourselves, make a difference.
Top of the Range Tools and Equipment
Our equipment and materials are a reflection of our service. They're the best to serve your best interest.
We source high-quality materials from reliable suppliers. And our tools go through regular checkups to ensure they work in the best condition.
Upfront Pricing
No nasty surprises and unnecessary costs with us. We believe in transparency. Our pricing is fair, and we put everything on the table to make the most informed decision for you and your home.
If you need a plumbing emergency service
Successful emergency management needs experience and expertise. We've got the EXPERIENCE and EXPERTISE. Our expert plumber in Sydney does emergency plumbing services any time of the day.
We have a licensed plumber on the road to get to Sydney residents sooner for your plumbing needs and provide an outstanding range of plumbing services.
At Fixed Today, we can effectively stop your property from flooding caused by a burst pipe or severely blocked sewer drain or blocked toilets. Or from a dangerous gas leak coming from your kitchen appliance.
You can trust our fully licensed and expert plumbers to attend to your home or business and make it safer again. Your well-being is our top priority, and we will do everything we can to ensure you are out of harm's way.
You can contact our friendly staff, and they will put you in touch with one of our general plumbing specialists for fast response with an extensive range of plumbing works.